Family Wilderness Guide Program
Future dates to be announced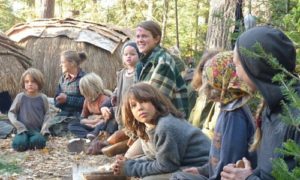 The theme of the Family Wilderness Guide Program is clan living and natural child rearing. Couples and single people with or without children who want to learn the clan living and parenting skills of hunter-gatherers are invited to attend. Here, participants will live as a clan, experiencing firsthand how untold generations of people lived and how children were raised—and still are being raised in a few isolated areas.
What does it take to raise a child well? Someone from our society might say "a good school." A person from a traditional agrarian culture could reply "It takes a village." An Aboriginal person might respond "They need a children's culture," which means living full-time with other children and having the freedom to explore and integrate lifeway skills into their play with childhood creativity. And what is needed for sound parenting? "A good partner," or even "a responsible, well-established individual," would likely be the modern person's reply. The agrarian could say "the help of grandparents," and the aboriginal person would probably state "It takes a clan." For nearly all of our existence as a species, children have been raised in a clan environment. They were in constant contact with other children of varying ages. A number of adults parented together to provide a variety of role models, along with elders to offer guidance rooted in generations of experience.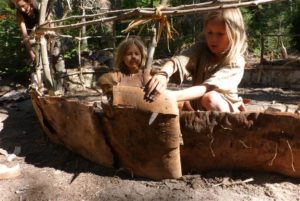 Learn how to empower children to find their own answers, and how to work with other adults in providing a culturally rich environment for children. You and your children will learn cooperative and awareness-raising games, conflict resolution skills, how to spontaneously express thoughts and feelings, and how to work through dysfunctional behavioral patterns learned from your own childhood, which may be undermining your current relationships. 
Additionally, children and adults will develop fire making, shelter building, foraging, and trapping skills, along with many other skills related to wilderness clan living. There will be plenty of opportunities to swim, canoe, explore, listen to campfire stories, and more. And above all, the experience will be woven together by the solid guidance and broad perspective that comes from many hearts beating together in rhythm with Earth and Sky and all the plant and animal relations. This is the clan way–the way of our ancestors.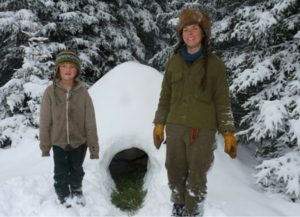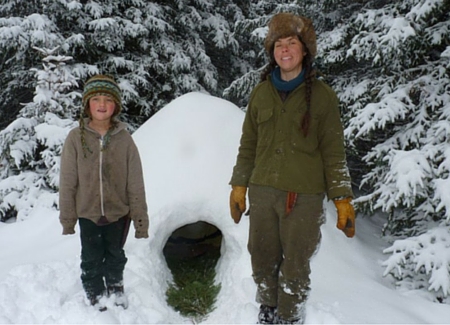 Written materials, online exploration, discussions and support groups before and after the program are part of the extensive preparation and follow-up which are integrated into this experience to maximize its benefits for you, your family, and your community. You will learn how to apply traditional child-rearing wisdom to contemporary living situations and will be able to connect with like-hearted parents  who are willing to tackle the challenge of incorporating clan-based techniques to strengthen and nurture community.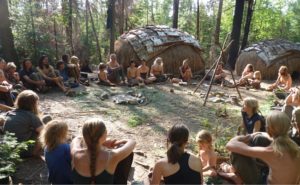 To find out more about our last Family Wilderness Guide experience, visit the Family Yearlong Blog and the Wilderness Guide Photo Gallery.
Learn more about the Northwoods habitat.
If you are interested in a wilderness immersion experience with less emphasis on child rearing, visit the Wilderness Guide Program webpage.
Program Information:
Future dates to be announced
Location: Nishnajida (Ojibwe for 'Camp Where the Old Ways Return') is 80 acres of wilderness located in the heart of the Chequamegon-Nicolet National Forest. It is six miles from the main campus and support community we call Nadmadewining. The camp can be reached by canoe, by forest trails, or by road to within a mile of the camp. 
Tuition is $10,200 per adult. Allow up to $1500 for incidental expenses such as craft supplies and canoe rental.
To find out when the next Family Wilderness Guide Program will be scheduled, sign up for our newsletter (see below) or contact
Odemakwa (at) teachingdrum (dot) org.
Footage of the 2012/13 Family Wilderness Guide Program by Michel Scott
---
Ishi and Eek Scholarship Fund
The Family Wilderness Guide program changes lives… starting with the children. Families with young children are often not in a financial situation that will allow them to step outside their lives and jobs for a year to dedicate themselves to this important work, but they are the ones, perhaps, who need it most. Therefore, we have recently established the Ishi and Eek* Scholarship Fund, to help those that would be otherwise be unable, to attend the 2018-2019 Family Wilderness Guide program.
Please Help! Your donations to this fund will serve in unimaginable ways!
PayPal button is coming soon! Until then, you can donate by check or money order to: Ishi and Eek Fund. Drop off or send your donation to:
Teaching Drum Outdoor School
7124 Military Road ~ Three Lakes, WI 54562
*Ishi and Eek were 2 of the 17 children who benefited from the first Family Wilderness Guide experience