Teaching Drum Outdoor School is a growing organization requiring staff with a diverse skill set. If you'd like to be part of a community that seeks to live in balance with self and the Earth, and one of the open positions below appeals to you, then send us your resume and cover letter to volunteer (at) teachingdrum (dot) org. Or call us at (715) 546-2944. For general information regarding compensation for those who live on-site, see the description at the bottom of this page.
If you're not looking for a position, but would like to volunteer with us, please see our volunteer page.  
Families are welcome. We do not discriminate on the basis of race, age, color, religion, sex, national origin, sexual identity or sexual orientation.
PLEASE NOTE: We are a tobacco, alcohol, and drug free community and we have a no pet policy. 
Visit our photo gallery to see photos of the main campus and accommodations.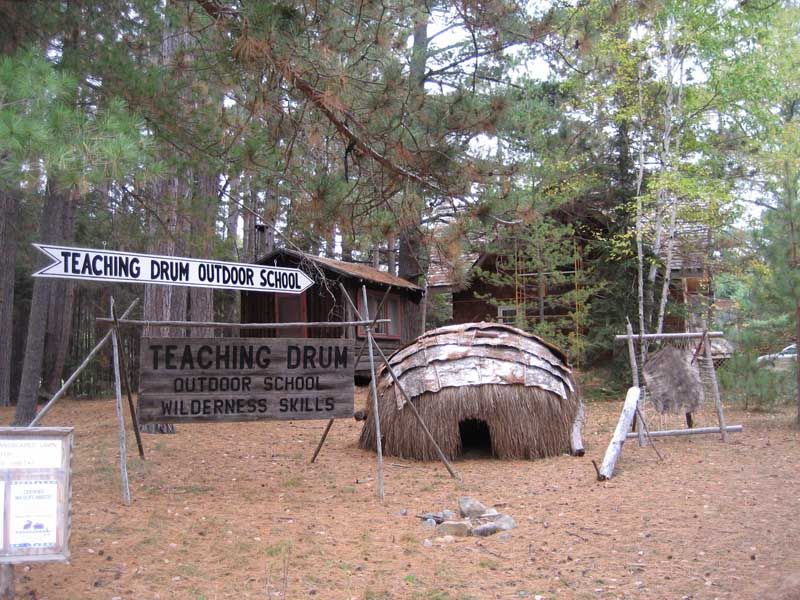 Teaching Drum Outdoor School is an outdoor wilderness school and an intentional community (called Nadmadewining) focused on living in a balanced way with nature and self. If you are yearning for a simple lifestyle – heating with wood, eating organic and wild-foraged foods diet, and living in community with others who enjoy the same, then this may be a great opportunity for you. Living at Teaching Drum is more of a way of life than a job, with the privilege of joining a Circle of people with whom you share values and life goals.
Office Coordinator
 We are looking for a highly organized and self motivated person to assume the duties of the Office Coordinator. This is a live-in position (scroll to the bottom of the page for information regarding compensation). The office coordinator duties include answering phones, organizing mail, sending packages to customers who order from our store, maintaining and updating our filing system which includes signature sheets and policies, and assisting other administrators as the need arises. This person must be microsoft office proficient and able to work with others in a team environment. The position doesn't require a  lot of technical knowledge, but attention to detail is a must and experience with online filing systems and computers beyond that of microsift office is a plus.
If interested, please email your resume and cover letter to  volunteer(at)teachingdrum(dot)org.
Marketing/Webmaster
We are looking for a someone to assume the role of webmaster for the 5 websites associated with Teaching Drum Outdoor School. This person will also work with the Marketing Coordinator to assist with marketing campaigns to promote the School's programs and courses.
Webmaster duties include updating page content, building or updating webpages, and backing up websites as well as troubleshooting any issues that arise through our hosting site. This is a live-in position (scroll down to the bottom of the page regarding compensation). This person must have experience building and updating webpages. Formal training is not a prerequisite, but the applicant must be able to demonstrate their knowledge of building and maintaing websites and be able to sucessfully troubleshooting website issues. 
If interested, please email your resume and cover letter, along with a portfolio of your work to volunteer(at)teachingdrum(dot)org.
Personal Assistant for Tamarack Song
Tamarack Song is the founder and director of Teaching Drum Outdoor School and is looking for a personal assistant to assist him with his day-to-day responsibilites with Teaching Drum, The Healing Nature Center, and Snow Wolf Publishing.  This is a live-in position (see right side-bar for information regarding compensation). To learn more and to apply, please read the job description written by Tamarack here.
Compensation for On-site Staff
We offer room and board (includes rustic living accommodations and Paleo based food with wild meat and fish with organic fruits and vegetables), shared vehicle use, utilities, internet, and a $350 stipend/month. There are also plenty of opportunities to learn wilderness survival skills, free camping and canoe rental, discounts on courses, and free access to the Healing Nature Center.