View the Nadmadewening (Support Camp) Gallery here
DIRECTOR
TAMARACK SONG  Founder and Director, Guide Trainer, and Elder
Tamarack's medicine helpers are Mullein and blue-eyed White Wolf. His ancestors are the tribal people of North Africa and Central Asia. His first memories are of gathering wild strawberries with his mother and learning from her about the wildflowers, birds, and butterflies of the meadow surrounding their house. At every opportunity as a child, he would be out in the woods and swamps, soaking up every teaching he could extract from the landscape, the weather, and all the animals he found so easy to communicate with. When he was a young man, the examples of Mohandas Gandhi and Aldo Leopold inspired him to dance around convention and go live in the wild. He built a wigwam, joined with a pack of wolves, and sat at the feet of Elders to relearn what it is to be human. Fighting with Ojibwe warriors to regain indigenous hunting and fishing rights, he relived the pain of his own ancestors losing their old ways.
Tamarack has spent his life studying the world's aboriginal peoples, apprenticing to Elders, and learning traditional hunter-gatherer survival skills. He currently serves as a consultant for wilderness trekkers around the world, and for organizations such as the National Geographic Society. In 1987, he founded Teaching Drum Outdoor School. In 1994, he published his first book, Journey to the Ancestral Self, and has since published many more. He continues to write on the topics of the Native lifeway, connecting with Nature, healing, wilderness survival skills, and Zen. Learn more about Tamarack by visiting his website here.
PROGRAM GUIDES
ABEL (CHRIS) BEAN  Senior Wilderness Guide
Abel is a professional level wilderness guide with 15 years of experience at Teaching Drum Outdoor School. Since completing his first year-long Wilderness Guide Program at Teaching Drum in 2001, Abel has received advanced training from Tamarack Song, working alongside him in guiding the Wilderness Guide and Wild Moon programs, and the Guardian Intensive Field Trainings. His instructing capabilities in hunter-gather and personal development skills have earned him Master Guide credentials.
Abel's expertise puts him in the top tier of wilderness professionals. He excels in the areas of shelter building, friction fire making, hide tanning, wilderness foraging, primitive cooking, solo canoeing, orienteering, weather forecasting, dream-work, and co-parenting. He scored Level 3 in the 2015 Track and Sign Evaluation and holds a current Wilderness First Responder certification. As a mentor, soccer coach, and former high school science teacher, Abel's leadership skills and compassion are living examples of the Guardian Way.
Abel currently lives with his wife Susan and son Diindiis at Teaching Drum Outdoor School, where he continues to share his knowledge of Native lifeways and his love for the natural world.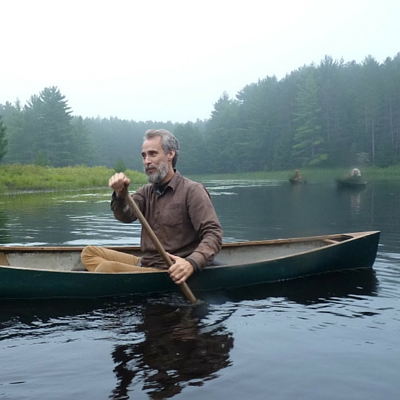 LETY SEIBEL  Wilderness Guide, Accounts Manager, and Elder
Tracing her ancestry to the southernmost part of North America (Popoluca Maya – Olmec – Mixtec), West Africa, China, and Europe, Lety is known by many as Woman of the Four Colors. Leticia, her given name means 'joyful' in Latin. Her native name Minawaanigozikwe, means Woman of Joy. Eagle is her dodem. As a curandera's granddaughter, Lety's strengths lie in the healing and visionary arts. For all of her adult life, she has been a massage therapist and energy worker. She gardened and crafted since childhood, and was an organic farmer for thirteen years prior to taking a volunteer staff position at the Teaching Drum.
In 2001, Lety and her then 10-year-old daughter came to Teaching Drum as Wilderness Guide Program participants (Seekers). This experience culminated with the pivotal realization that personifying her true nature and holding space for fellow Seekers to do the same, was the next step in her life journey's purpose.
Lety wears many hats at Teaching Drum. As a Wilderness Guide, she shares her knowledge of the natural world and Native lifeway. Administratively, she oversees the School's finances, licenses, permits, etc. She also works closely with vendors who supply the School's courses and community needs. She assists with publishing requirements by transcribing, translating, editing. She maintains a close relationship with members of the Ojibwe tribe, and has spent 8 years learning from and following the guidance of the Ojibwe language (Ojibwemowin). Lety seeks to serve Ojibwemowin as a doorway through which humans can return to the Old Ways of honor and respect that many of our ancestors once walked, and that are contained within their earth-based tongues.
Lety is certified as a level 2 tracker by the CyberTracker Track and Sign evaluation, and is a volunteer Tracker for the Wisconsin DNR Wolf Population Survey.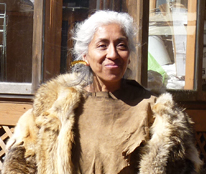 BAERBEL EHRIG  Wilderness Guide, Program Coordinator  
Growing up in West Berlin, Baerbel discovered her love for the outdoors after the Berlin wall came down in 1989. She came to the US as an exchange student and developed a deep respect and love for the beautiful nature of this country, and soon discovered that what you don't have you yearn for. Baerbel developed her extensive knowledge of environmental sciences through studies and travelling. She received a Masters of Science degree (Msc) in Environmental Science from the University of Potsdam, Germany. Baerbel continues to travel to many places in Europe, North, Central and South America and other wild places to deepen her relationship with the natural world. She also loves to do many outdoor activities and sports like tracking, canoeing, swimming, biking and can be regularly found outdoors exploring.
Baerbel is a graduate of the Wilderness Guide Program, and successfully completed the Two-year Training Program at Teaching Drum Outdoor School. She has also served as a full time resident at Mashkodens during a number of the Wild Moon Programs. Since 2012, she has been serving as a Wilderness Guide and Program Coordinator for the Wilderness Guide Programs, Guardian Trainings and other short-term wilderness programs. Using her skills and creative energy, Baerbel assists with program development that encourages people to gain wilderness skills and become more involved in their relationship with the outdoors. In addition, Baerbel oversees program marketing through photography, updating Teaching Drum's website, and helping to create program newsletters. Baerbel is certified as a level 2 tracker by the CyberTracker Track an d Sign evaluation. She is a volunteer Tracker for the Wisconsin DNR Wolf Population Survey, and also works together with the Town of Three Lakes and Oneida County Conservation Department in helping to re-establishing native plant species in the region.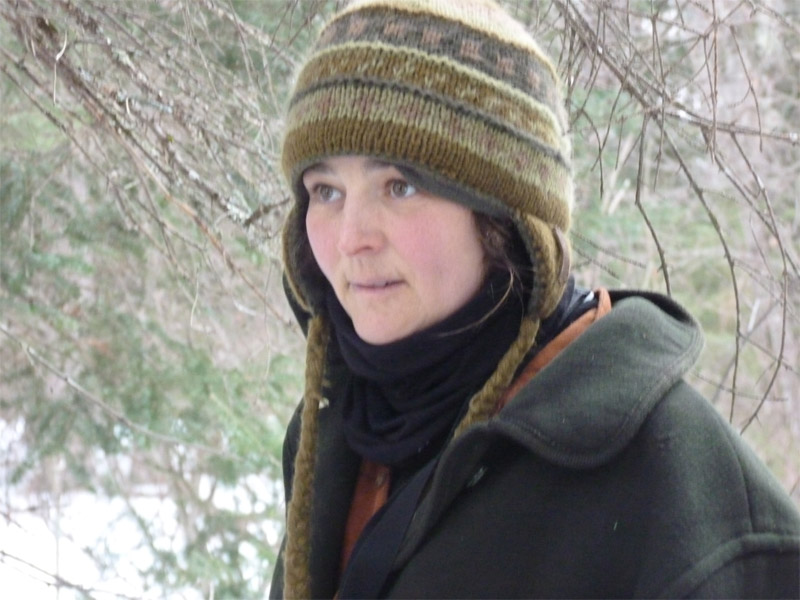 SUSAN BEAN  Wilderness Guide, Hospitality and Nutrition Coordinator
Susan first came to Teaching Drum as a volunteer in 1999. In 2001, she participated in the Wilderness Guide Program. Afterwards, Susan played a key role in establishing the Family House at Nadmadiwining, Teaching Drum's staff community, and facilitated the children's culture, which included co-parenting and living as clan as a main focus. In 2012, she participated in the Family Wilderness Guide Program with her family, which included 11 months of living in the wilds with other families and individuals as a community.
She enjoys traveling and learning about other communities and cultures as well as alternative methods for healing. Susan is passionate about living in community and assisting others in creating a nurturing and balanced way of relating to one another. She currently lives at Teaching Drum with her husband Abel, and their son Diindiis.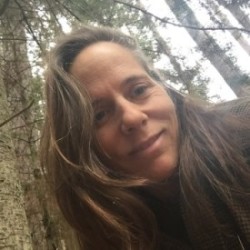 ADMINISTRATIVE
THORN  Office Coordinator
With roots in the Deep South, Thorn grew up moving around the continental United States before re-rooting in the Northwoods of Wisconsin. As a child, inspired by Sam in My Side of the Mountain, Thorn pretended they could eat pine cones and various decorative plants from their mom's garden. In the process of growing up, Thorn drifted away from dreams of living in nature, concluding that it was "unrealistic." It took traveling around the world to see how the other half live to realize not only could they* be a hunter-gatherer, they already were one.
Thorn came to the Teaching Drum in 2009 and has worked extensively in the School's publishing and harvesting efforts. They are passionate about the role of storytelling in the human tradition, foraging, community, and backtracking social conventions and technology to the ways of our ancestors. Thorn is a graduate of the Family Wilderness Guide Program 2012-13, and the 2015 Guardian Intensive Training.
*Singular use of "they" and "their" are used as gender-neutral pronouns.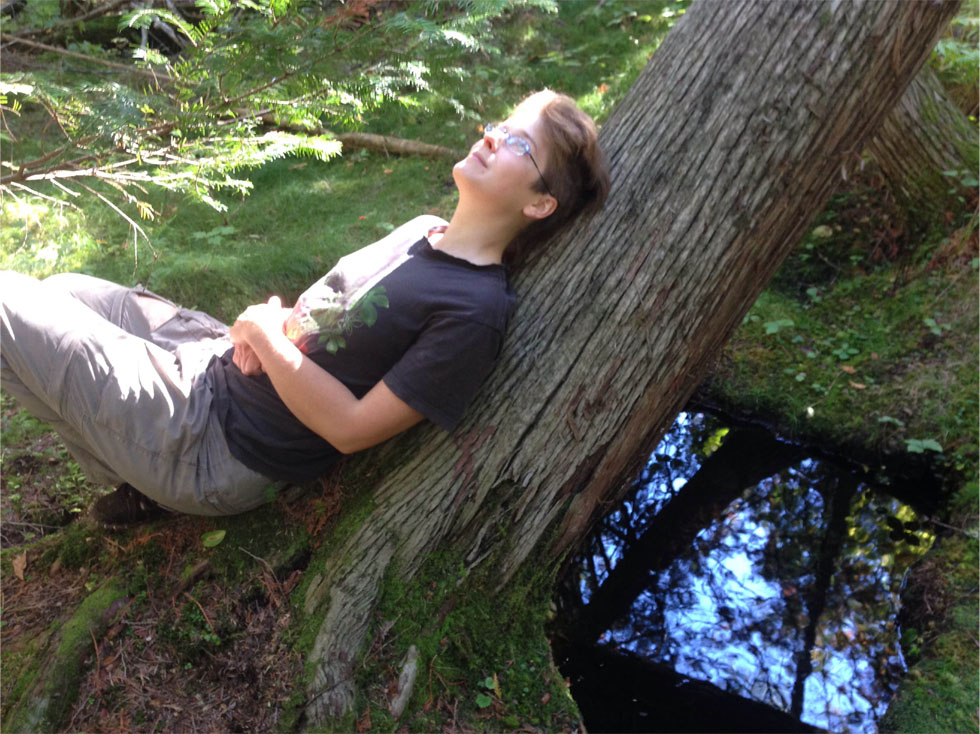 JULES RIVEST  Webmaster, Marketing Coordinator 
Born and raised in Wisconsin and an alumni of the University of Wisconsin-Madison, Jules spent a large part of their career working as an advocate and behavior analyst for people with developmental disabilities.  In 2005, they* pursued law school and became an attorney working in criminal defense and assisting reentry programs for women offenders. In 2012, Jules took a detour from the legal profession when they returned to their hometown in Wisconsin to assist with a family illness. During this time, they rekindled their relationship with nature and decided to pursue whatever made them curious instead of  following the expectations of the status quo.
This path lead them to the Northwoods of Wisconsin where in 2014 they joined the staff at Teaching Drum where they currently oversee the School's websites, the coordination of volunteers, and assisting with marketing.  In their spare time,  they enjoy exploring the forest, writing, and making woodland jewelry and sacred objects from items found during their wanderings in the woods. Jules volunteers at Wild Instincts, a local nonprofit organization that provides ethical wildlife rehabilitation while promoting wildlife stewardship through education and research. Jules also volunteers with Social Health Care for Healing Syrian Refugees, a program assisting Syrian Refugees rebuild community and heal from the trauma of war.
*Singular use of "they" and "their" are used as gender-neutral pronouns. 
CAMPUS CARE
COYOTE THREE FEATHERS HERON  Groundskeeper
Coyote became interested in wilderness skills at age 13 when he purchased a book about wild foods and another about camp skills. After eight years in the United States Coast Guard he heard about the Tracker School in N.J. It wasn't long before he saved up and made plans to attend. Two courses at the Tracker School were rewarding, but he needed something more.
One day he saw an add for Boulder Outdoor Survival School (B.O.S.S.). There seemed to be a greater intensity to the course, with its treks through the desert of Southern Utah. During his time at BOSS he came across an add in a magazine about Teaching Drum's Wilderness Guide Program (WGP). It seemed like the thing to do. A friend that he met during a BOSS course went to the Teaching Drum to do the year-long immersion course. He suggested Coyote come for a visit. And so he visited Teaching Drum in 2002. It was then that he knew that participating in the WGP was the thing to do. The rest is history.
Coyote visited the school from time to time over the years. He participated in a 'wild moon' or two, and volunteered for short periods, but finally decided to live here full time to lend energy to making the Teaching Drum property look nice. Besides caring for the grounds, he does trash runs, wood gathering, and various carpentry projects.
Sewing and rug making are interests, along with video production and editing. Stand-Up comedy and public speaking are areas that he is pursuing with much delight.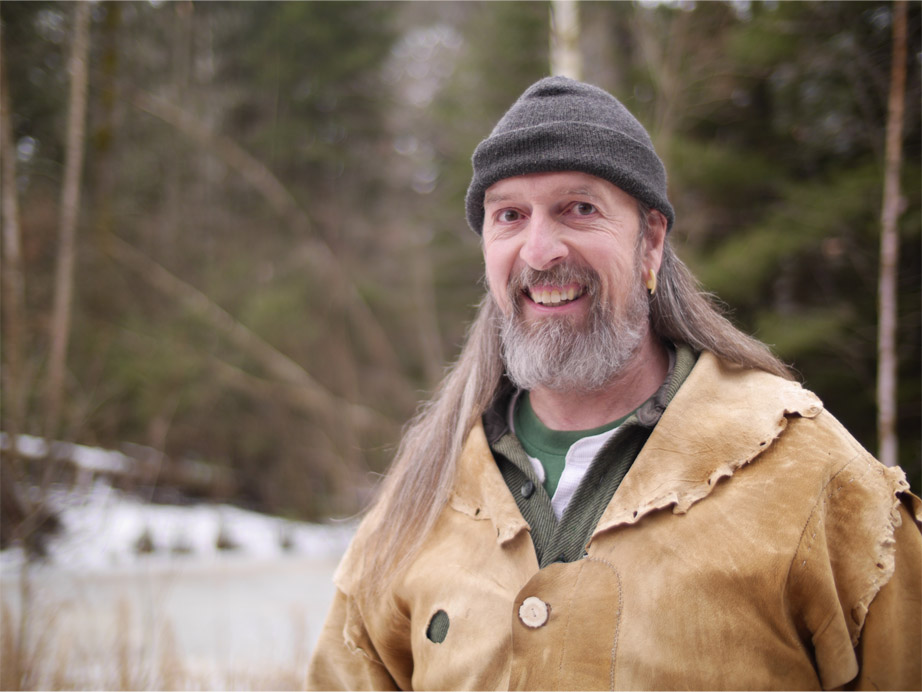 MICHAEL JASON FOX  Carpenter 
An avid cyclist, musician, and a lover of nature, Michael came to Teaching Drum in 2013 to study the Old Ways and to live in community while working in editing and book promotions. He finished his first book, The Fox Trails while living at the School. In the summer of 2014, he left Teaching Drum to pedal his bicycle from Wisconsin to San Francisco, documenting his travels through writing. He returned to the School in early 2015 to bring the adventure full circle. With experience in public speaking, he's worked with at-risk youth in wilderness therapy programs and continues to share his personal healing journey through song and story.
Michael participated in the 2015 Guardian At-Home Training Program and the Wilderness Canoe Immersion Program. As a long-term volunteer at Teaching Drum, Michael assists with carpentry, foraging and processing wild foods, lodge building, and other projects as needed.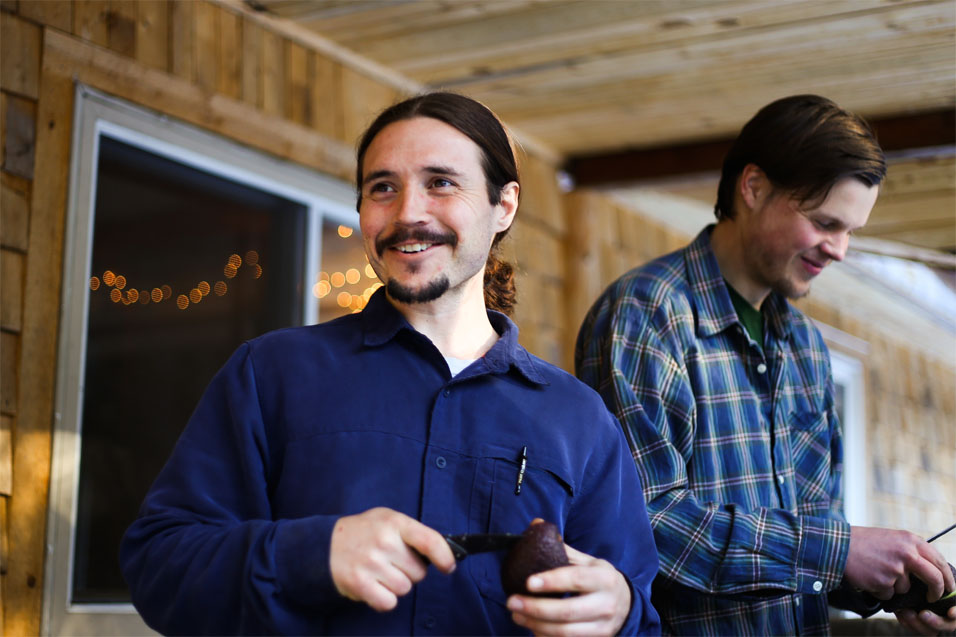 PUBLISHING AND EDITING
ON-CAMPUS:
DANNY FLETCHER  Editor
OFF-CAMPUS: 
Editors Andrew Huff and Rebecca Lill
European Translation Coordinator Irene Tischler
Translators Kai Petra Stich, Eva Densing, Elizabeth Demeter, and Living Pappa
Illustrator Kristine Scheiner, Amber Braun
BOARD OF DIRECTORS
President: Wil Losch
Treasurer: Lety Seibel
Secretary: Tamarack Song
Member: Nan Casper
Member: Doug Palmeter