Teaching Drum Outdoor School
is located in the Chequamegon-Nicolet National Forest of northern Wisconsin. Specifically, we are located in a 40-by-60-mile area of the Forest known as the Highland Lakes Plateau, which lies on the Eastern Continental Divide. It is also called the Headwaters because it is the fountainhead of the major rivers of northern Wisconsin and the adjacent Upper Peninsula of Michigan. Along with being the highest area in the upper Midwest, its beauty comes from being carpeted by dense forest and sprinkled with a profusion of glacial lakes. Learn more about Wisconsin's Northwoods here.
Our purpose is to bring back the craft, foraging, and cultural practices of our ancestors, to help us return to a balanced way of life. Learning is by immersion in a wilderness setting with a small clan of people. This provides participants the opportunity to learn ancient skills and customs as they were actually practiced, and to live what is learned. Participants not only experience the wilderness as a learning environment, but also as their home, where they are able to imprint what they've learned by applying it to their daily lives. 
We Are Grateful 
for the wisdom and teachings of the indigenous peoples of this world, especially the Tribes of North America who have carried the knowledge of their ancestors at the great expense of their peoples, their traditions, and their land. While knowledge regarding how to live in balance with all things was at one point available to us all through our own ancestral lines, it has since been forgotten by most, resulting in colonization, genocide, and systematic oppression that continues to this day. We believe that hope for Earth and all Her species rests in humanity's ability to learn the wisdom that has been carried by indigenous peoples. Therefore, we are grateful to those who have kept this knowledge alive, and to those who have been willing to share it with us.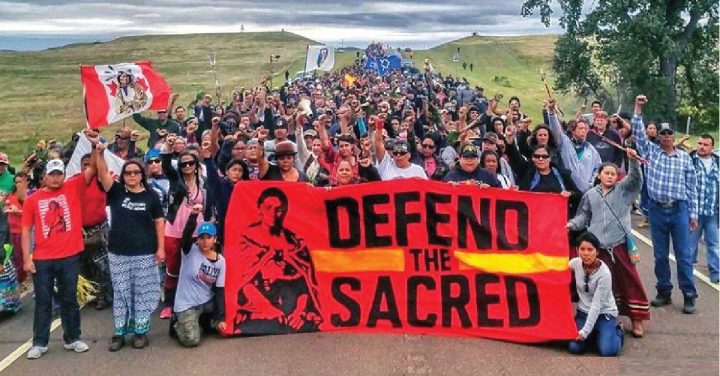 To learn more about the indigenous lead movement to help restore right relationship with the Earth, visit Honor the Earth here.
The Ojibwe are the traditional caretakers of this region. We are grateful to them for their willingness to share their language, skills, traditions, and how to tend and build a balanced relationship with the Earth and all who reside within Her. We are also grateful to the Tlingit, Oji-Cree, Mohawk, and Navajo Tribes for sharing their traditions.  
Our Staff Community 
With the recent planting of native trees, herbs, and wildflowers, the construction of a pond, and the eradication of alien invasive plants, the campus lawn has been transformed into a mini nature preserve, certified by the National Wildlife Federation and the Windstar Wildlife Institute.All buildings are natural wood and log, and all but one are wood heated. With computers and copy machines in one room and wild rice, tanned hides, and fish traps in the next, Nadmadewening is rooted in both the modern and ancient worlds. Being a 10 minute drive from town and only steps away from wilderness and wigwams, even its location straddles both realities. 
On average, 16 staff work together to support the School and are the backbone of our community. To learn more about our intentional community visit our staff community page here.
If you are interested in joining our community of support staff, you are welcome to visit our open positions page here. We also welcome those who are interested in volunteering with us anywhere from a few days up to a month. Visit our volunteer page here for more information.
Our History
Tamarack Song founded the Teaching Drum Outdoor School in 1987, inspired by the directive he received on his Vision Quest to bring the time-honored ways of living in balance to this time of profound imbalance. The school began as a summer operation, offering classes in edible and medicinal plants and week-long wilderness canoe trips, along with birch bark canoe building and Native-style running.
In 1989, Teaching Drum incorporated as a 501(c)3 nonprofit school, acquired an 80 acre wilderness parcel on an undeveloped lake for its outdoor classroom, and began operating year-round. New offerings included an annual primitive skills rendezvous called the Old Way Gathering, hide tanning and shelter building courses, and wilderness retreats. By 1999, the primitive camp known as Nishnajida (Ojibwe for Camp Where the Old Way Returns) was well-established on the lakeshore preserve, which made it possible to begin the long-awaited year-long wilderness immersion program. In 2007, the Wild Moon, a month-long sister program, began at new preserve called Mashkodens (Ojibwe for Little Prairie), where adults and children come together to live for one month out in the wilds of the Northwoods.
Since then, we've created two other organzations. Snow Wolf Publishing was created to publish and support the writings of Tamarack Song and the Healing Nature Center is in the process of becoming an alternative healing retreat center for those who wish to seek restoration and balance through relationship with Nature.  
Our Mission and Our Name 
OUR MISSION is to function as a bridge to the wisdom and lifeway skills of our ancestors, that we may reconnect with our intrinsic selves and relearn how to live honorably and respectfully with each other and the Earth. 
THE NAME Teaching Drum Outdoor School is derived from the drum, which is a universal musical instrument and the center of many tribal people's lives. Joining the beats of their hearts with the rhythm of the Earth, the beat of the Drum calls them together to be of one voice and one heart. In this place of communion with the essential self, with clan, and with the Circle of Life, we can find the wisdom and guidance to walk our lives with honor and purpose. This is the foundation of Teaching Drum Outdoor School.
The Land: Where Wilderness is the Classroom
Nadmadewening (Ojibwe for Support Camp) is our main campus where the school, writing, and editing offices, Old Way Wares Bookstore, workshop, and staff residences are located. The name reflects one of its primary purposes: to support the school's wilderness immersion programs as well as our other two organizations, Snow Wolf Publishing and the Healing Nature Center.
You can view the Nadmadewening photo gallery here.
Nishnajida (Ojibwe for Camp Where the Old Ways Return) is the home of our yearlong Wilderness Guide Program. Six miles from the main campus and support community we call Nadmadewining, Nishnajida lies on the shores of pristine Woodbury Lake. The camp can be reached by canoe, by forest trails, or by road to within a mile of the camp. Nearto the camp, a women's lodge is found on the 80 acre preserve, along with a ceremonial site where all three circles come together every full moon. Men's and women's healing circles meet there as well. Learn more about this living classroom.
The Nishnajida photo gallery is coming soon.
Mashkodens (Ojibwe for Little Prairie) is home to the Wild Moon Immersion program. A half-mile walk from Nadmadewening down a deer trail that snakes through lush forest and winds around beaver ponds teeming with life, you'll come upon a native scouting camp. On a small rise at the edge of a sweet fern prairie and a water lily-adorned pond lies a cluster of thatch and birch bark wigwams, earth lodges, an arbor, and a lean-to. Originally established as a place for graduates of the Wilderness Guide Program to come for renewal and advanced training, Mashkodens is now open to others who would like to learn from the example of those actually living the native lifeway. Learn more about this living classroom.
The Mashkodens photo gallery is coming soon.