Testimonials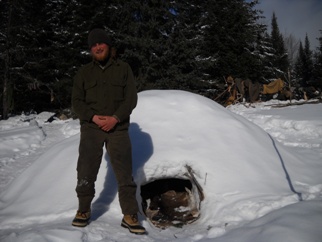 Ross Carter
2010 Graduate
Great Britain
On the 1st of May last year (2009) I walked with 11 others away from civilization, into the unknown, the unfamiliar, and the uncomfortable. I walked to learn about myself and others in ways not easily possible within the sensory drown of the city. We walked for the joy of the moment, for life.
We were to explore our relationships with the external and internal. Our relationships with loved ones, not-so-loved ones, the earth, mind and soul. We found ourselves deepening connections and clearing/understanding mental fuzz. We explored our dreams and our surroundings and the symbiosis of the two – of everything. We found the motivation and hunger in being. Sometimes we found joy.
I came to realize what life is and took another step on the journey to explore my reason for living, my passion and my gifts. I gained more awareness about the wavy thin line between self and other, about ebb and flow.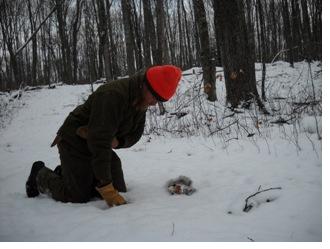 We explored tools to connect with life – to become human.To become whole.To not only survive but to passionately flourish in life's empowering flow. To ride the wave and not fight it.
We made fire by friction. We sang and danced. We trapped and gathered. We fought and cried. We practiced crafts. Made leather and clothing baskets and bowls. Tools. We hiked and canoed, ran and swam. Napped. Lay gazing at the stars. We sat in a circle around hearth, told stories and jokes or sat silently absorbed in each other, food, fire, the lushness of ALL that is. We ate wholly. We gifted to the earth and she gifted us. We played and experimented. Always intensely. Everything was/is always intense.
If life is a dance then I have just learnt some new moves. Or maybe I 'remembered' a few moves that I haven't done for a long while. Maybe. I found/find myself feeling much love for all who have influenced me and all who I have met and will meet on this journey. In fact I feel much love for everything as I see how all is connected. I am a piece of the whole. I realize that I fit into that puzzle and my piece is vitally important for that puzzle to be complete. I see how every encounter, every action, effects life immeasurably. I rest. I am content.
I can treat every moment, every breath, like I have recently been treating every mouthful of
food.
I can savour it.
Feel it in intricate detail.
Take all of its nourishing goodness I possibly can.
Respect it and honour it.
For it gives me life.
It is life.
Every footstep that I feel the wonderful crunch of snow under foot feeds me, gives me the
hunger to keep walking.
Now I am flowing with life instead of fighting it.
WHAT I choose to do every moment doesn't matter as much as HOW I choose to do it.
Present or not present.
Aware or unaware.
This feels like honey melting in the mouth.
Like the passion of a lover.
Like orgasm.
Like ecstasy.
This simple sweetness is all I need.
Specks of snow dancing to the ground.
Spinning and spiralling in the wind to join the mass of white below.
A broken aspen finger bent at the joint leans against one of his furry brothers.
Flakes float now like individual specks of light descending from the heavens.
Chickadee sings and sings telling me that spring is here.
Even though snow flake may shine otherwise, I feel spring in my heart and body.
I feel the freshness and newness that she brings.
I feel buds within me stretching for the sun, stretching for his nourishment.
I feel my roots mixing with the people and place around me.
I see older roots spread across the planet.
Some deeply grounded and fed by soil.
Others merely laying on the surface dried and torn, weak and fragile.
I appreciate them all for they brought me to this place here, so that I may bud again on this
tasty spring day.
With no regrets and no wish to change anything I step to my feet and carry on
walking..............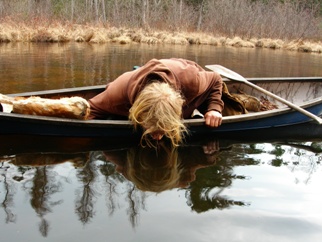 Brum Wallander
2006 Graduate
Sweden
For me the greatest gift of the Wilderness Guide Program (WGP) was getting to know myself and the rest of life a lot better.
I got to know what hunger, cold, warmth, truth and respect really is about for the first time in my life. I got to know about what my needs really are. I got to know the fear of not having enough. I got to know the part within me that didn't get his needs met as a child. I really connected with my dreams for the first time in my life.
Having the open and accepting surroundings, both human and non-human, helped me tremendously to be open and accepting myself. To accept myself as I am and therefore able to accept others as they are. Those surroundings made it very difficult for me to keep escaping from myself and who I really am. I got to know my emotions in a way I didn't before. I learned to take responsibility for them and to really see that I am the creator of my experience of life. I got to really experience how my actions affect everything around me. I got tools to actively heal myself, and help others heal, from the wounds from growing up in a dysfunctional world.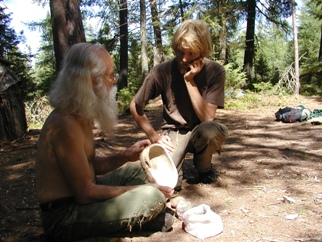 I learned skills that had direct importance in my daily life – how to meet my basic needs. Living outside in the different seasons, for a whole turn of the seasons, really connected me with the natural flow of life for the first time. I was at times challenged to the limits of what I thought I could handle. Exploring those parts of my existence has helped me to develop a trust in myself and the rest of my world. Ultimately I got to know my fear of dying. In many ways I died during the year and was reborn. The setting of the WGP really helped me to experience all of this.
Living in the wilderness with minimal distractions and all the support needed to be able to do it, and to be able to do it for a whole turn of the seasons, is a unique and great gift to everyone that has the honor to experience it. The lessons from the WGP keep coming back to me. Some lessons have taken years to sink in. I feel immensely grateful for all that I was given during my year in the WGP.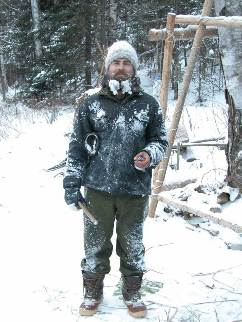 David Khadikonov
2005 Graduate
Canada
The WGP was a wake up call. And it's taken much more than a full turn of the seasons to be able to answer. Now I am learning the art of Listening. The person I was schooled to be by my parents, the educational system, the media & society at large, has died.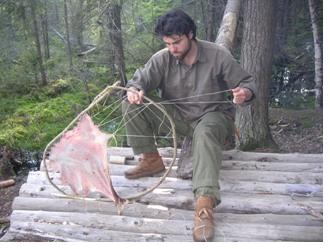 I am a new human being since the year-long. Before the WGP I was doing my best to "make a life for my self." Now I Am Life. All of Life!
There's so much power in connecting with this source of knowing that it dwarfs anything that I've ever attained in my previous experience and has forever changed how I experience the world now. That's what the WGP provided me: an opportunity to engage with Life. To have a real intimacy with the rawness of Life. When you can drink and swim and run and sit and sing with the rhythm of your Mother Earth & All your Brothers & Sisters of this world... you realize Who You Are.
Have you ever awakened inside of your Dream? That's my tag-line for the WGP.
Oh yeah, and you learn cool survival skills too! ;)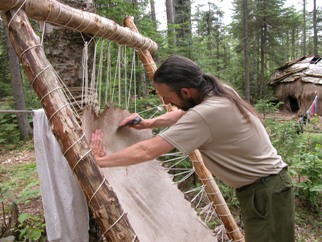 Coyote Three Feathers
2005 Graduate
USA
Before the WGP, I was like a bud. Now I am like a blossoming flower that keeps opening. I have been empowered to think, feel, and do. I love the old ways, the survival skills. Or should I say the living skills? I have been empowered to accept myself.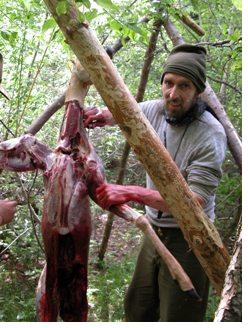 I have been empowered to speak out to people that want to oppress me and my brothers and sisters because of beliefs.
What happened to me in the yearlong goes way beyond understanding the native lifeway and the skills that go with it. I learned newer levels of facing my fears, a process that I was already awakening to. I learned how to articulate my feelings without attacking the other person (unless I really want to). I learned how to listen and discover that the other person is not really attacking me (unless they really want to), but expressing their fears. This is what is happening with me at the moment. Gosh, this is exciting!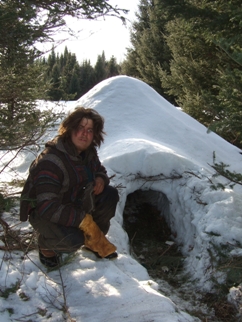 Bastian Barucker
2008 Graduate
Germany
The year-long experience has been a step and a journey into a world I did not know existed.

My world view about the natural world and myself were transformed and it took a lot of time and a full immersion into the clan-based native lifeway for that to happen. The...direct and sensory connection to the ever changing flows of the surrounding wilderness helped me to become so much more aware of myself and my non-human relations. I started to reawaken and realize that there was more to discover about myself.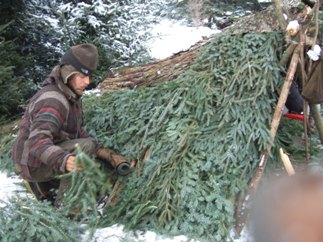 It was sometimes a challenging awakening because of my inability to have intimate and functioning relationships on a long-term basis. The amount of healing work that was necessary in order to change these old fear-based habits challenged me to, and sometimes over, my limits. However it brought one of the greatest gifts on my journey: I started to understand that I am responsible for my life and that I can make the changes needed if I surround myself with the people (including non-human) I want to be like.

To live and learn the Old Way has helped me to understand what learning is all about and inspired me to practice these skills as they directly connect me to the needs of my existence.

I feel grateful, blessed and very thankful for all the gifts I have received in the year-long and see that it has changed my life profoundly in a way that helped me to be more fulfilled, connected and in the moment.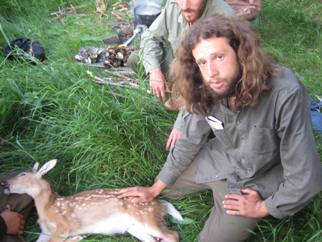 Daniel Stermac-Stein




2009 Graduate




Canada



The most important connection nurtured during the WGP was that with myself. I learned to trust in myself as a source of knowledge and potential, of healing, of connection, of fulfillment, of giving and receiving, of questions and answers. I was brought – sometimes gently, others abruptly - into a confrontation with aspects of my being which prevented truthful, open and trusting sharing with the circles within and around me. Learning from these beautiful and difficult experiences I learned more of the power that I hold inside to create the life that I long for and need.

The seasons of the land, the animals, the small group in which we lived, the guidance and challenge of Tamarack, Chris and Lety, and many forces unseen brought this healing, remembering and reconnection. The time, space, continuity and flow they lent us allowed for this growth that is the most powerful gift I could have received - "a gift that keeps on giving" – to myself and to all.














Nela Maurer




2010 Graduate




Germany



In the year-long I experienced how it feels when I am at the place I really want to be and doing exactly what I profoundly want to do in that moment.
It gives me an incredible rush of energy. The whole turn of the seasons I had this deep feeling that this is exactly what I want to do right now. It was the steady pulsating beat behind all my emotional Tohuwabohu, all my confusion and not knowing.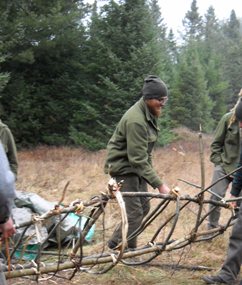 Johannes Oberthuer




2010 Graduate




Austria



Deep Gratefulness and Joy fill my body when I think back on the Yearlong. Blessed I feel for all the gifts I received. Thanks to myself for deciding to live outside and stepping out of my known world. Thanks to the people who brought the message to me that the Wilderness Guide Program exists. Thank you People at Teaching Drum for your open Hearts, your Vision and your Support. Thank you all you wild ones who live your nature.
Thank you Earth.
Thank you Sun.
Thank you Water.
Thank you Stones.
Thank you Plants and Trees.
Thank you Animals.
Thank you People.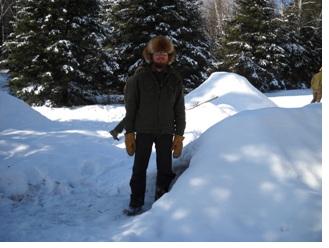 Related to so many beings I continue my journey knowing that I decide how I walk it. Do I want to stumble? Do I want to be at peace with myself, my people and the earth? What am I waiting for?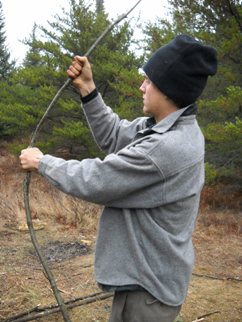 Nick Taliaferro




2010 Graduate




Sweden/USA



When I walk along my life-path I bump into obstacles, and challenges, but also many beautiful sticks, stones and bones. In any case, it is good to have a rucksack of tools, memories and knowledge to be able to meet all these things.

In the year I gained a lot of these tools, so I can now pick them up when I need them. Yet they are not in my rucksack but inside of me.

Instead of me ending up somewhere specific, I'd learn How to Move along the Lifelong path.

And so I continue doing