May 1st, 2017 – March 31st, 2018
About the Wilderness Guide Program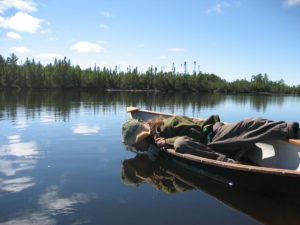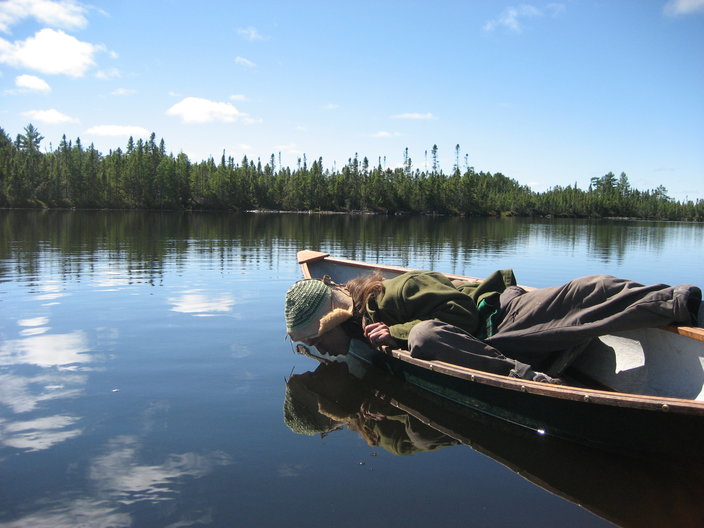 Experiential learning is the cornerstone of this 11-month wilderness immersion experience. Participants live day-to-day in a native-modeled encampment, learning and practicing the essential qualitative skills of communication and cooperation, along with all the skills needed to build, maintain, and live in a North Woods native camp. This includes: first aid, weather forecasting, nutrition, personal hygiene, food procurement, and many other skills. Participants learn how to drink wild water, natural shelter and lodge building, how to tan hides and sew clothing, which plants to use for wounds and other medicinal uses, how to forage, trap, and fish.
Without the usual distractions that come from modern day living, such as email, social media, commutes to and from work, meetings, and other obligations, you'll experience firsthand what it means to walk in nature unencumbered, just as our ancestors once lived. As your awarenesses reawaken, you'll come to understand what it means to be in direct relationship with nature, to learn the wisdom of wild animals and plants.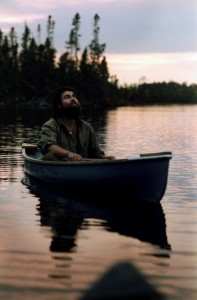 For nearly a year, hours and minutes, weeks and months, cease to matter as a new way of living takes hold, that of balance and flow. Time is measured by location of the sun and moon, how long it takes to cook an egg on the fire, or paddle across the lake. Length is determined by finger, hand, and arm. You greatly advance toward being earth-sufficient rather than self-sufficient, toward living rather than just surviving, toward dwelling in attuned immersion rather than merely observing and dreaming.
Just as with an indigenous group, the agenda for the day is based on the needs of the camp and the participants rather than by a teacher. The teachers (known as guides) are there to support the camp and work one-on-one with participants to assist with individual needs and interests.
The location is Nishnajida (Ojibwe for Camp Where the Old Ways Return), the school's 80 acre preserve adjacent to the Headwaters Wilderness in the Chequamegon-Nicolet National Forest, located 6 miles from Nadmadewining (Ojibwe for Support Camp), our administrative center and support community. Participants hike or paddle to Nadmadewining every new moon for a day of research (there are no books at camp) and communicating with family and friends.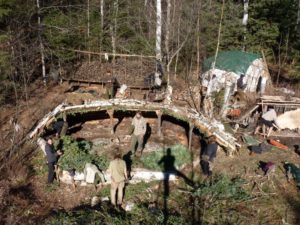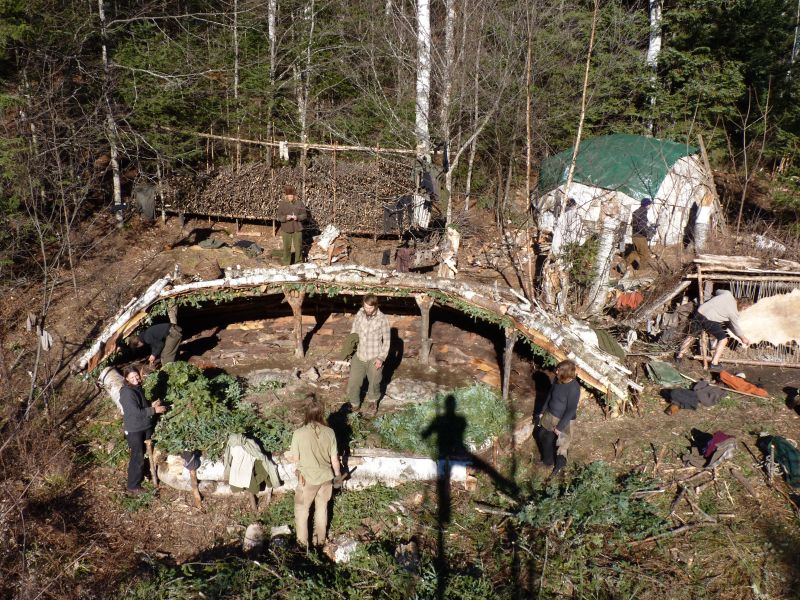 What draws someone to take part in such an experience? While everyone is different and comes to this experience for their own reasons, many of our past participants had a yearning to learn the natural ways of their ancestors, of their wild and free kin. The guides at Teaching Drum Outdoor School have over 74 years of combined experience of wilderness survival skills and personal development training. They have made it their life's mission to help others reconnect with nature, to their deepest selves, and to find balance within. The guides are there as a resource for how to walk honorably and respectfully on the Earth. Those who awaken to their true self can then gain the confidence to share their gifts and talents with their campmates and their communities.
Requirements 
No prior outdoor experience is required. In fact, previous training could get in the way, as you would likely have to unlearn much of it in order to learn indigenous ways as they are actually lived. The only admission requirement is to come honorably, with hunger (what we call an empty bowl) and an open heart.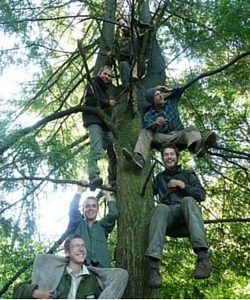 If you are serious about doing the Wilderness Guide Program, we ask that you come during the current program and visit for a week to get a real feel for what you will be doing at Nishnajida. We require prospective Seekers to do this so your decisions are based on experience; we encourage folks to come early in the decision making process. We don't allow visitors during the months of May and March, the first and last months of the program.
If you have an interest in the Wilderness Guide Program and have any questions, please send an email along with your name and phone number to balance (at) teachingdrum (dot) org. The 2017/18 Family Wilderness Guide Program is now open for applications. Everyone participating will receive preliminary materials and suggested readings, and will be invited to join a free forum for those who are interested in exploring whether this program is something they'd like to experience.
Program Information
Date: May 1st, 2017 – March 31st, 2018
Location: Nishnajida (Ojibwe for Camp Where the Old Ways Return) is 80 acres of wilderness located in the heart of the Chequamegon-Nicolet National Forest. It is six miles from the main campus and support community we call Nadmadewining. The camp can be reached by canoe, by forest trails, or by road to within a mile of the camp. 
Tuition is $10,200 for each adult. Allow up to $1500 for incidental expenses such as craft supplies and canoe rental.
The Wilderness Guide Program is now open for applications. Please download the information packet. For any questions, or if you would like an application, please send an email along with your name and phone number to balance (at) teachingdrum (dot) org.  
Visit the Wilderness Guide Photo Gallery.